The Sharmus Outlaw Opportunity Scholarship is granted to an incarcerated Trans Woman of Color with sex industry experience who has at least one year left to serve in prison.  Applications are taken all year around and will be awarded on June 3rd and December 17th.  The scholarship can be used to enroll in the paralegal program through Blackstone Career Institute or for one semester at Adams State College.  The scholarship program includes tuition, books and testing modules.  Applicants must have their high school diploma or GED equivalency certificate.  Applicants are asked to send their proof of high school diploma or GED certificate with their application or to let the scholarship committeeknow how to access it.  Applicants must send two letters of reference to support their essay.  Letters of reference can be from anyone, including prison officials, chaplains, cell mates, family members or friends on the outside or inside of prison. Please send application essay, GED or high school diploma information and letters of reference to:
SWOPUSA – Behind Bars
Attn: Scholarship Committee
340 S Lemon Ave
Walnut, CA 91789
SHARMUS ​OUTLAW advocated for the rights of all people ​with a focus on transgender rights, sex worker rights and HIV/AIDS. Until her death in July 2016, Sharmus Outlaw was a policy advocate at the Best Practices Policy Project, with her work focusing on the rights of transgender communities and health care access. Ms Outlaw was until her death the US representative for the Programme Advisory Committee of the Red Umbrella Fund, a global fund specifically for sex worker-led organizations. Ms Outlaw was an advocate for health and rights for more than 25 years with experience working in the District of Columbia, Maryland and North Carolina. She was a founder of Different Avenues in the the District of Columbia in 2001 and served as co-coordinator of the Desiree Alliance from 2011 until 2015.
The first ever US national report by sex worker led organizations on the impact of HIV and HIV policies on sex workers is now available. DOWNLOAD THE FULL REPORT.  This report is the first in a series to be produced as part of the project Nothing About Us, Without Us: HIV/AIDS-related Community and Policy Organizing by US Sex Workers and focuses on the experiences of transgender people who are also sex workers (or who are profiled as sex workers).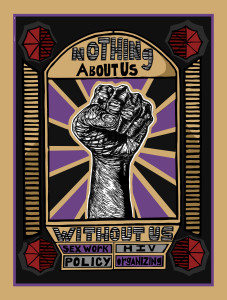 The Nothing About Us, Without Us: HIV/AIDS-related Community and Policy Organizing by US Sex Workers is a joint project of Best Practices Policy Project and Desiree Alliance. The project is funded by the Elton John AIDS Foundation. The project includes advocacy and organizing efforts led by US sex workers and we are producing a series of reports aiming to unveil how current HIV policies impact groups of people who are usually silenced and excluded from policy debates. Our first report will focus on the experiences transgender people who are also sex workers (or who are profiled as sex workers). We are also documenting the experiences of sex workers in general, especially people who are most excluded, such as people from low income communities especially those of color, youth, drug users and people who have experienced incarceration to guide our future work. The Nothing About Us, Without Us: HIV/AIDS-related Community and Policy Organizing for US Sex Workers project will show the ways in which communities are organizing together to build leadership in order to influence policies and practices that impact their own lives.
The current Nothing About Us, Without Us: HIV/AIDS-related Community and Policy Organizing for US Sex Workers community based research team is made up of Sharmus Outlaw, Penelope Saunders, J. Kirby, Derek Demeri and Katrina Shin. The project was joined by Mackenzie Collins for the Summer of 2015. The report reader and key advisor for Desiree Alliance is Cris Sardina. The research is also guided by the project advisory of community advocates and researchers listed below.
Research Project Advisory
Monica Jones is a trans woman of color activist, a human rights defender and a student of social work at Arizona State University student in Phoenix. She has been a human rights advocate at United Nations in Geneva as part of the Universal Periodic Review of the United States in 2015 and challenged the validity of the "manifesting the intent to prostitute" statute in Phoenix after her own arrest in 2013.
Loftin Wilson is a southern, queer, transmasculine harm reductionist originally from a small town in rural central NC, who now lives in Durham, NC. He has worked as a Harm Reduction Organizer for the North Carolina Harm Reduction Coalition for five years, doing overdose prevention, HIV/hepatitis prevention, and syringe access work with a focus on the transgender community. He has also worked as SWOP-USA's New Chapter Coordinator since January 2015, and during that time has supported the formation of 5 new SWOP chapters doing sex worker support and advocacy across the US. Loftin is a passionate believer in harm reduction, sex worker and drug user rights, prison abolition, and gender self-determination.
Kiesha McCurtis has worked in the HIV prevention field in both research and community-based settings. Her interests include social justice and human rights-based approaches to HIV prevention through research, activism, advocacy, and training. She has been an integral member of several organizations for the rights of sex workers including having been a consultant for Desiree Alliance and a volunteer for BPPP and Different Avenues.
Bré Campbell is a Transgender Research Assistant for the University of Michigan's SexLab and the Testing Lab Coordinator and HIV Prevention Specialist for Wayne State University School of Medicine's Horizons Project. She is also the Executive Director of the Trans Sistah's of Color Project. Bré serves on the steering committee member of the Detroit Stigma Index and is a research consultant with Positively Trans (T+), a project of the Transgender Law Center.
Jill McCracken is an Associate Professor of Rhetoric and Writing Studies at the University of South Florida St. Petersburg, where she teaches graduate and undergraduate courses in rhetoric; writing studies; sex work; and gender, sexuality, and feminist theory. Her research interests include the rhetoric of marginalized communities, in particular sex work & sex trafficking; public policy; gender; violence against girls and women; ethnography and participatory research methods; and criminalization.
Sharmus Outlaw has worked the streets of the District for years and has been arrested for prostitution, but the 43-year-old transgender woman told members of the D.C. Council yesterday that incarceration is not the way to deal with the illegal enterprise. "Sex work is about survival," Outlaw said. "It's not about choosing a neighborhood to go into and to prostitute. We are struggling as transgender women to make ends meet and to survive in today's world where we are misunderstood." But residents of a Northeast neighborhood not far from Union Station told a different story. Jeff King said that when he opens his door in the morning, he often finds condoms on the sidewalk. Joseph McHale said, "The last thing I hear when I go to bed at night is the clicking of their heels." D.C. Council member Phil Mendelson (D-At Large), who chaired the hearing of the Committee on Public Safety, said: "I agree with those who keep in mind that there are human beings involved in this. It is not just about punishing somebody." But Tommy Wells (D-Ward 6) said "street prostitution is nonnegotiable. There is no level of street prostitution that will be okay."
Cyndee Clay, executive director of Helping Individual Prostitutes Survive, said prostitutes need more support programs to help them leave the streets.
"I see more people involved in sex work who live in the city who are pushed out in the streets because of circumstance," she said. "What we are seeing is that prostitution is being pushed from the downtown area into neighborhood areas." Community activist Robert Pittman called for stronger penalties for prostitutes and their johns. Patricia Riley, special counsel for the U.S. attorney's office, said the problem is not the range of programs and penalties; it is lack of funding from the city. "One of the things that has concerned us over the years is that money has not been available for these division programs," Riley said. About 8 percent of those arrested for prostitution in the District this years were repeat offenders, she said. That number is down from 10 percent last year. Police Inspector Brian Bray gave an example of a program that he says is working: "John School," where those arrested for soliciting prostitutes are required to take a class on changing their behavior. Of the 3,500 people who have participated, Bray said, only four have been rearrested. He also said the number of venues where open-air prostitution takes place has decreased by an "astounding" 42 percent this year.